Marika saatis oma Türgi reisilt ühe ilusa foto kaunist laevast.
Ja minul tekkis huvi teada saada, mis laevaga tegu ja kuidas see paistab purjedega välja.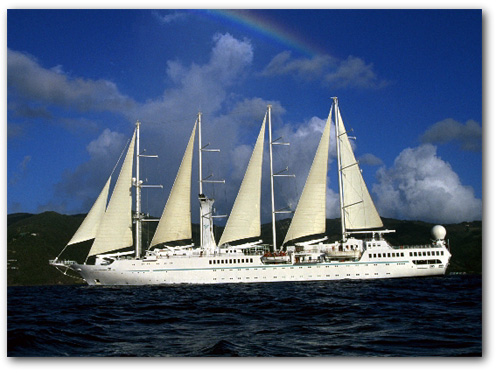 Photo: http://www.ericalucci.com/
Peale mõneminutilist guugeldamist sain teada, et see on WIND SPIRIT.
Kel huvi, külastagu Windstar Cruises veebilehte. Kruiisikompaniil on tervelt 3 sellist uhket laeva.
In late 1986, the first commercial sailing vessel built in 60 years slipped out of a French dry-dock in Le Havre. Although the towering sails echoed a bygone era of explorers, the msy Wind Star, with its sleek lines and computerized controls, was revolutionary in concept and design.

Windstar's ships are officially motor-sail-yachts (msy), but the designation belies the vessels' unique rigging. Unfurling in two minutes at the push of a button, billowing white sails reach to the sky. All functions are operated from the bridge by computer micro-chips and navigational devices. The unusual "open-bridge" operation allows guests to drop by and acquaint themselves with the veteran captains and officers who demonstrate the ships' intriguing capabilities to modern day explorers.

The 148-passenger Wind Star was joined by sister ships the msy Wind Song in 1987, and msy Wind Spirit in 1988. A new era in luxury cruising was now being pioneered by Windstar Cruises. Nearly a decade later in 1998, the 312-passenger msy Wind Surf was acquired by Windstar. Sailing originally as Club Med I, the Wind Surf was built in 1990 in the same shipyard to strikingly similar specifications as her sister ships, making her a perfect match for the four fleet family.
Aitäh, Marika!