Kaheksa Eesti noort, vanuses 15-25.a, saab suvel purjetada Hollandi purjelaeval Gulden Leeuw 17 päevaga Falmouthist Rostocki. Reisi kuupäevad 21.07-7.08.2012.
Lühikirjeldus: 2012. aastal algab reis Falmouthist (UK) ja lõpeb Rostockis (DE). Gulden Leeuw purjetab piki Inglismaa rannikut, siis Hollandisse, Taani, Rootsi ja Saksamaale.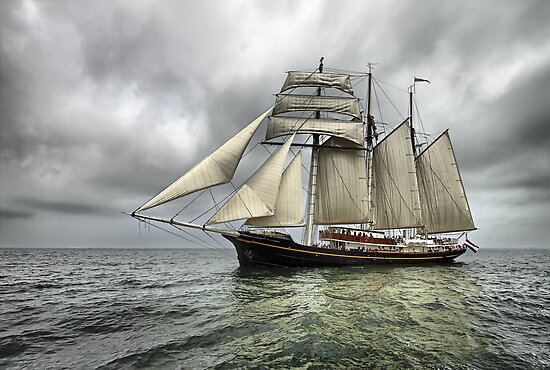 Külastatakse järgmisi sadamalinnu: Amsterdam (Holland), Aalborg (Taani), Halmstad (Rootsi) ja lõpusadamaks on Rostock Saksamaal. Reis kestab kokku 17 päeva, mille kestel on piisavalt aega, et õppida purjetama, saada tuttavaks oma reisikaaslastega ning avastada midagi uut ka enda kohta. Reisil osalevad Euroopa programmi Youth in Action raames noored Hollandist, Saksamaalt, Suurbritanniast, Rootsist, Taanist, Belgiast ja Eestist.
http://www.atseasailtraining.com/178/285/gulden-leeuw-/-youth-in-action-2012.html
Eesti noortele on tänu Hollandi sponsori toetusele kogu reisi hind 475 € (selle reisi nn letihind on kuni 25.aastastele 950€, vanematele 1280€), mille hulka kuulub majutus laevas, söök, purjeõpe jne. Projekti raames kompenseeritakse ka 70% sõidupiletite hinnast, s.o piletid kodust Falmouthi ja Rostockist tagasi koju.
Projekti kontaktisik Eestis on Margus Zahharov, tel 56 480 715, margussail@gmail.com või Mai kontakt 56 211 585, mai@staestonia.eu
MTÜ Eesti Noorte Purjeõppeselts STA Estonia kohta saab infot
http://www.facebook.com/sta.estonia
Ka St. Iv võistleb sel aastal taas kodust kaugel: St.Malo-Lissabon-Cadiz-A Coruna- Dublin-Liverpool. Osaleme rahvusvahelisel õppepurjekate avamereregatil The Tall Ships Races 2012. Veel on mõned vabad kohad A Coruna-Dublin ja Dublin-Liverpool võistlusele (Dublinisse ja Liverpooli on odavlennufirmaga üsna soodne otselend Tallinnast) ning delivery etappidele Tallinnast St.Malosse ja Liverpoolist Tallinnasse.
Gulden Leeuw
The Gulden Leeuw is restored in 2010, built as a big, sturdy sailing ship reminiscent of the 1930's and with the deck layout of a classic yacht. In combination with the chosen rigging it will become a fast, robust ship that can really sail. The "Gulden Leeuw" will be a three-masted topsail schooner. This very versatile rigging combines the advantages of a square-sailed ship and a fore-and-aft rigged ship. The magnificent ambiance is the 30's style,
rich materials, often hand-crafted, decorative and luxurious, sought with simple, functional forms.
Accommodation
The deckhouse is connected to the enormous deck with folding doors, several benches are placed in the gangways. The captains VIP lounge is beautiful. The trainees will sleep all together in the saloon in hammocks or in bunks. There are 4 showers and several toilets.
Specifications
Rig: Three-mast topsail Schooner
Homeport: Kampen, Netherlands
Date Built: 1937
Restored: 2010
Crew: 4-12 pax
Capacity: 56 pers.
Daytrip: 200 pers.
Length (loa): 70.1 m
Beam: 8.6 m
Draught: 4.2 m
Sail: 1400 m2
Displacement: 675 ton
Height of mast: 40 m
Engine of capacity: 1200 HP
History
The Gulden Leeuw was launched as a biological research ship in 1937 for the Danish ministry, called Dana. She is built as an ocean-going ice-class ship. In the 80's she was used as a offshore support ship, after that the Danish Nautical School trained the students to become experience seamen. In 2007 P&T Charters bought Dana. These entrepreneurs from the commercial sailing sector are converting this ship into a fast three-masted topsail schooner. They renamed her as Gulden Leeuw. The Gulden Leeuw has been designed by the renowned ship's architects' office of KHMB Y&S Design/Korner and is being converted by the Balk Royal Shipyard.
At Sea – Sailtrips and Events
www.atseasailtraining.com