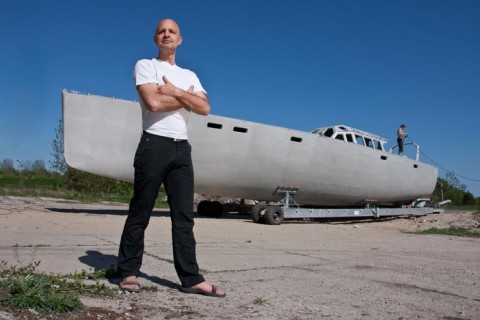 Saarlased on tublid laevaehitajad. Selles pole kahtlustki. Olgu tegemist puu või metalliga – saarlased sellest materjalist kindla ujuvsõiduki valmis meisterdavad. Seepärast on eelmisel aastal loodud ka Eesti Väikelaevaehitajate Liit – smallcraft.ee.
Pöide vallas on viimase aasta jooksul nokitsetud Rootsi disaneri näpunäidete all väga huvitava alumiiniumist ekspeditsioonijahi kallal. Mark Muru juhitav Alunaut valiti mitme konkurendi seast välja projekti teostama.
The Journeyman 60 yacht is designed by Jesper Weissglas. Every solution, every detail and every choice of materials is based on experience from over 30 000 nautical miles of adventure charter sailing in rough conditions, including the Across Greenland expedition with renowned Swedish adventurer Ola Skinnarmo.

Journeyman 60

Journeyman is the result of over 5 years of design work. Jesper is living his dream and his vision, but he has also had to deal with harsh economic realities and numbing obstacles – often no bigger than a single aluminum bolt. The process has involved some of Sweden's sharpest minds on aeronautical and structural design – mostly without any other reward but the thrill of being part of a project beyond the ordinary. The underwater hull is based on research by Gabriel Heyman, and the appendages are designed in cooperation with Jens Österlund.

The yacht is now under construction in Estonia. The experienced team at the Alunaut Shipyard on Saaremaa – accustomed to building performance workboats – are putting their skills and their raw enthusiasm into building Sweden's first "extreme express cruiser".
Nüüd on projekt nii kaugel, et paari päeva pärast lastakse alus vette (tõenäoliselt neljapäeval-reedel Kuivastus), et siis suund võtta Rootsi poole. Seal paigaldatakse talle mast. Tagasi Saaremaale seilab Journyman 60 juba purjede all, et siin paika panna viimased materjalid ja detailid.
Jälgi projekti arengut edasi kipper.ee foorumis – Saarlased ehitavad innovaatilise ekspeditsioonijahi
Alunaut – http://alunaut.ee/
Journeyman 60 – http://journeyman.se/