Soome ja kogu Läänemere kunagine uhkus Finnjet jõudis eelmisel nädalal Indiasse Alangi linna, kust temast peaks saama vanaraud ja kasutatud asjade turukaup. Sellega ei ole nõus soomlased, kes koguvad laeva päästmiseks raha.
Gaasiturbiinilaev (GTS) Finnjet ehitati 31 aastat tagasi ja ta oli Läänemere üks kiireim laev, oma algusaastatel oli maailma suurim ja pikim autotekiga laev ja siiani ainuke gaasiturbiiniga reisilaev. Kuna omanikele ei tasunud laeva ekspluateerimine end ära, siis on laev mitu aastat olnud mitmes erinevas firmas loksutada. Vahepeal on olnud isegi ujuvhotellina New Orleansi katastroofi järel.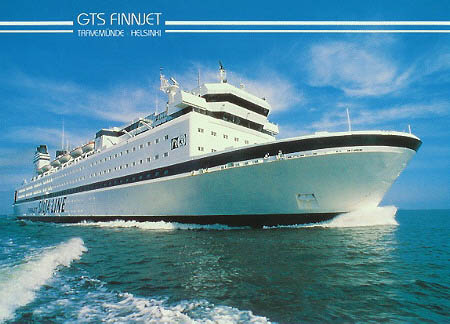 Foto: http://www.simplonpc.co.uk
Laeva praeguse omaniku käest väljaostmiseks oleks tarvis 18 miljonit dollarit. Vaata lisa: Save The Finnjet!
Meenutame üht ajaloo silmapaistvamat laeva, mis on ka korduvalt Tallinnas käinud. Loe lisa Postimehest. Kas veel viimastel päevadel õnnestub laeva romulast päästa? Finnjeti veebilehe viimane uudis on pärit 25. maist.
Finnjet has now left the harbour of Jeddah for Mumbai. From there the journey goes on to Alang, where the ship will be broken up by the local scrapyards. FINNJETweb has therefore changed its Save the Finnjet! alert and extended it as far as we are now looking for every possible (part)-Investor for the Espoo-Hotel/Musum project (see below). If bigger investors can be convinced as well, and voluntary crew for the back-transfer to Finland can be arranged, the chances for the ship to be preserved from the scrappers rise. If not, Finnjet will be broken up already in a few weeks.

Finnjetweb.com 25.05.2008
Soome-Saksamaa liinil opereerimise lõpetas see laev 2005. aastal.
Foto: http://farinha-ferry.blogspot.com