Panbo kirjutab Kelvin Hughes'i uuest radarist, millel ei ole magnetroni. Hakkasin materjalides tuhnima ja selgub, et tõepoolest on toimumas (r)evolutsioon objektide avastamise ja jälgimise seadmetes.
Aastasadu said laevajuhid vaid oma silmi, kõrvu ja vaistu usaldada, kui radareid veel ei olnud. Siis oli meremehe suur vaenlane udu või ükskõik, milline ilmanähtus, mis segas vaatlust. 20. sajandi keskel võeti laevadel kasutusele radarid, mis tunduvalt kergendasid vaatlust ja tõhustasid meresõiduohutust, kuigi radaritel on ka olulisi puudusi. Radarite kasutuselevõtt on üks olulisemaid verstaposte meresõiduohutuse ajaloos.
At this year's Euronaval exhibition in Paris, Kelvin Hughes launches the naval variant of SharpEye™, the world's first new technology radar. SharpEye™ features unprecedented performance against small targets in clutter, unparalleled reliability with little or no maintenance, and low through life cost. SharpEye™ is the most revolutionary innovation in the marine navigation radar market in the last 60 years.
Viimaste aastate mere-elektroonika arengu juures tekkis juba küsimus, kas senised radarid ei ole juba arengule jalgu jäänud? Nüüd toodetakse midagi sellist, millel pea sama oluline tähtsus, kui radarite kasutuselevõtu aegadel.
SharpEye radariga on merenduses 21. sajand alanud. Uus tehnika on kahtlemata parem senisest, lubatakse, et kõik väiksed objektid veepinnal avastatakse ja kaugemalt, kui senised radarid seda teinud. Paremini avastab kiiresti liikuvaid objekte ja seniste radarite segajad ei ole probleemiks. NB! Hooldusvaba. Igat tüüpi laevadele sobiv, ilmselt lähiajal hakatakse pakkuma ka väikelaevadele.
Oleks võinud juba ammu olemas olla!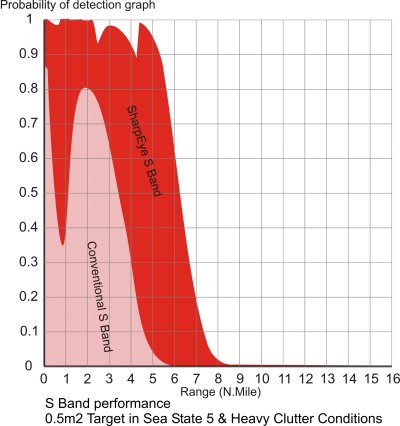 The new S-Band SharpEyeTM system will detect targets in clutter long before conventional radar. It achieves this major performance advantage through the use of a monostatic pulse Doppler solid state transceiver that uses the Doppler effect to determine the target's velocities. It features advanced pulse compression which processes received echoes into velocity bands enabling it to separate the wanted targets from clutter.
Niipalju, kui ma aru saan, kasutab uus radar Doppleri efekti. Ei hakka siinkohal tööpõhimõtet ja ehitust ümber jutustama, kel tõsisem huvi, saab järgnevatest linkidest uurida. Rohkem sellest SharpEye veebilehelt. Lisaks Navigation News (pdf).